Shade Tarps
QUIT Compromising on Fit & Finish…specify what you want sized to the INCH and know it will fit exactly! Order a custom tarp in any size, color, mesh or % shade EXCLUSIVELY from THOR Tarp!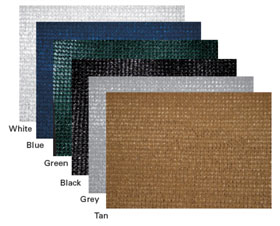 ThoroWeave 990 Super Shade Mesh
Super Shade Mesh is the perfect outdoor mesh fabric for all shade structures and canopies. Designed to allow air flow to significantly reduce temperatures beneath. Super Shade Mesh's knitted construction prevents tearing and fraying while the high UV resistance ensures colors remain vivid for years.
ThoroWeave 990 Super Mesh Specsheet

ThoroWeave 870 Privacy Mesh

ThoroWeave Standard Shade Mesh Options
• 40% shade
• 50% shade
• 60% shade
• 70% shade
• 90% shade
• 95% shade
ORDER NOW >>

Spec Sheets:
As a do-it-yourselfer, you can build your own greenhouse using our greenhouse covers and shade cloth. See how others have done it.